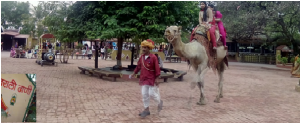 Every city has its own culture, an environment, its own mood. Rajasthan is place in India which is famouse for its rich historic culture in living, socialism, and yes has rich culture in its food. Peaple there are so charming and always keen to welcome tourits, that they can feel you as royal as a king.
But if get to see such culture, environment, mood, food, and same royal treatment samewhere else and not in Rajasthan! Will you Believe?
But I am not kidding! Its true.
There is a place in Indore called Nakhrali Dhani where you can not believe that you are not in Rajasthan.
How to reach
– Its about 1.0 km away from Indore Junction, Chhoti Gwaltoli and hence it will take hardly 13 to 15 mins to reach there
If You are coming via air, then it is 9.8 km from Devi Ahilyabai Holkar Airport, and will take 21 min to half an hour to reach there.
Following are some of the memorable moments that I have enjoyed there with some one special!