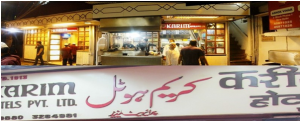 The Karim's or called as Karim's Hotel is a most popular restaurant especially for their non vegetarian items in Old Delhi near jama masjid. The name Karim's was taken from Haji Karimuddin who actually started the dhaba, where he used to sell only two items ie. Alu Gosht and Dal with Rumali Roti.



History: 
Haji Karimuddin has started this innovative idea of opening a dhaba, but it was not him who started coocking as a profession, it was actually his father, Mohammed Aziz who was a royal cook of During Mughal Period. After the last Mughal Emperor, Bahadur Shah Jafar was sent to Yangon in British- Controlled Burma, Aziz left for Merut and then Gaziabadd.
In 1911, During the coronation of the King George Haji Karimuddin opened a Dhaba with an idia to serve the People coming from all over India to join the coronation, and then in 1913 established the Karim Hotel to serve the royal food to the common man.
Karim's Hotels:-
KARIM HOTELS PVT. LTD.
JAMA MASJID, GALI KABABIAN
OLD DELHI – 110006, INDIA
PHONE : +91-11-23269880, 23264981
E-MAIL : karimhoteldel@gmail.com
Dastarkhwan-e-Karim Pvt. Ltd.
168/2, HZT. NIZAMUDDIN WEST,
NEW DELHI – 110016, INDIA
PHONE : +91-11-41827871/72/73/74
E-MAIL : karimhoteldel@gmail.com