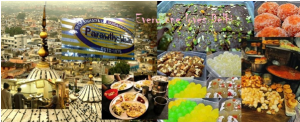 Indian street food lovers love Delhi. In this artical I am not representing delhi as New Delhi but as we usually say – Delhi NCR. The most exciting feature of its food is that it is not changing the taste of what we use to eat, as most of other cities did, but keeps on increasing the choices of what we will eat and now trust me it has become a global hub for street lovers. Delhi, when it was called as Indraprast and now as fourth largest agglomeration Delhi NCR, food is always been a centre of attraction. If you are in Delhi You can find food from every corner of India whether it is South, North, East, sea food, Bengali Cuisine, Gujrati or any other famous cuisines throughout India. Hence it is not wrong if I mention Delhi not only as capital but the food capital of india.
LETS START WITH OLD DELHI
If you are in Old Delhi, one name that you should be most familiar with is Chandani Chowk and is the best place to begin with our food excursion in Delhi. You can find plenty of food types starting from paranthas in paranthewali gali to chicken or mutton item outside and around Jama masjid. Chandani chowk was established by fifth Mughal Emperor Shah Jahan in and around 1965
Paranthas in Paranthawali gali:
Paranthawali gali was originally called as Dariba Kalan and got its name paranthewali gali in 1911. This place as the name suggest 'gali' is a small narrow street in chandani chowk where you can find many Parantha shops. There you can find many shops even run by the sixth generation of the same family and making this place more exciting and historical.
Halwa at its best:
Chandani Chowk is also famous for its variety of sweets, and one of them is halwa. There are many shops in old delhi selling halwa, but if you ask me Ghantewala halwai is the best in the business. it is not even famous but the one of the oldiest shop in India, got established in 1790 CE by Lala Sukh lal. It got its name Ghantewala as originally he used to sell his sweets below the bell i.e. ghante ke neeche wali dukan. It was also said that the shop is even famous before the Indian Rebellion of 1857. Sohan halwa is a favourite one among the all the fabulous sweets in the shop.
The Karim's:
The Karim's or called as Karim's Hotel is a most popular restaurant especially for their non vegetarian items in Old Delhi near jama masjid. The name Karim's was taken from Haji Karimuddin who actually started the dhaba, where he used to sell only two items ie. Alu Gosht and Dal with Rumali Roti.