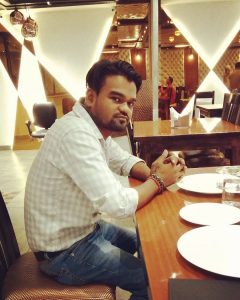 I am Sanju, born and get educated in Delhi. I did graduation form Delhi University. Professionally I am a SEO Expert working in an MNC in Gurgoan (Haryana), and if I am not in my office than I am a photographer, Blogger, a Tourist or a Good Thinker.
Why Street Food India:-
I am from Delhi and one thing amongst many fabulous amenities of Delhi, is its diversities in food. Being a street food lover and a traveller, Delhi gives me a chance to enrich this passion and knowledge about food in every corner of this fabulous city.  Now I want to explore whole India, and share this to the world and I found Street Food India Is the best medium to do that.
About Street Food India:-
India is a place where street food culture and food habits changes after every kilometre we travel. Every city, state, village has its own food culture. Street Food India gives you an insight about different street food corners, their stories, how to reach their and finally why they are famous for. In street Food India You will get to know not only about Indian street food, but we will cover all the street food corners around the world.
Stay connected, and keep on follow STREET FOOD INDIA